Diocesan Council Meetings
The Spring Council for 2019 was very kindly hosted by Ballycanew/Leskinfere/ Monamolin Branch in Ballycanew Hall on Tuesday 9th April. The Meeting began with a service of Holy Communion in St. Mogue's Church, during which our Diocesan Chaplain, Canon Mark Hayden, gave a very thought provoking address on the work of Mothers' Union with special reference to AFIA (Away from it All) and how beneficial it is to the wellbeing of individuals/families. Canon Mark was assisted at Holy Communiuon by our Diocesan President, Lesley Bayley.
The Council Meeting also took place in the church. We were welcomed by, Lesley Bayley, who spoke about being privileged to be elected as our Diocesan President. Lesley spoke of her journey to date in the role ~
a

ttending the commissioning of the Worldwide President, Sheran Harper, in London

the commissioning of our new All-Ireland President, June Butler, in Downpatrick

her own commissioning as an All-Ireland Trustee

attending both All-Ireland meetings and Branch meetings
A great deal of time during the meeting was focused on governance and adhering to the bye-laws of Mothers' Union.
Canon Barbara Fryday guided us through the form that treasurers have to return with their accounts and the requirement to fill the details in accurately.
Lesley went through all of the guidelines that had been sent out to Branches emphasising the need to follow the procedures in our bye-laws re appointing officers, keeping branch finances etc. While appreciating the difficulty and concern Branches had in following these guidelines it was pointed out that as a Charitiable Organisation we had to be transparent in all of our transactions and how we organised our Branches.
Reports were also received from the Unit Co-ordinators and it was agreed that the minutes of the meeting should be forwarded to all Branches as soon as available so that information is relayed to all members.
AFIA (Away From It All)
was
relaunched at the meeting and it is hoped that the Diocese will be able to support families/individuals in crisis with the support of this project.
Following the meeting we all enjoyed delicious refreshments provided by members of Ballycanew/Leskinfere/Monamolin Branch. Our than
ks to Naomi Besanson, Branch Leader, and to all of the members of the Branch for all of the work and effort they put into preparations for the meeting and the lovely meal. It was greatly appreciated by everyone.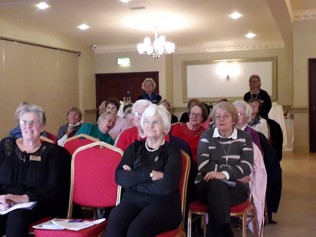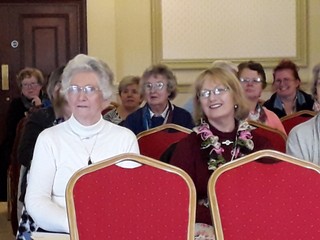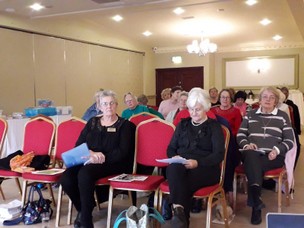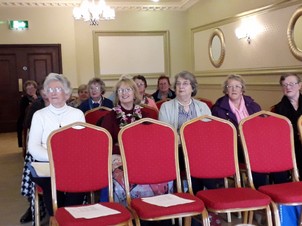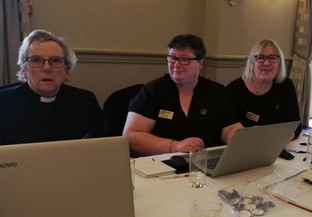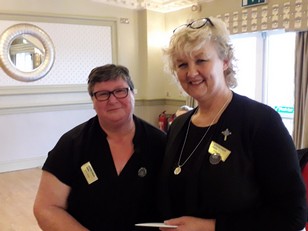 The Autumn Council Meeting for 2019 took place in The Woodford Dolmen Hotel in Carlow on Tuesday 5th Novmber. This was a new venue for our meeting and proved to be very popular as it is central and the room was very warm and comfortable.
Revd. Canon Barbara Fryday with the assistance of Lesley Bayley and Phyllis Grothier began the morning by celebrating Holy Communion with all those who attended the meeting. Thank you to Naomi Besanson for providing music for the service.
During the meeting Lesley Bayley, our Diocesan President, paid tribute to outgoing Office Holders in Mothers' Union and presented them with tokens of appreciation.
Linda Ward ~

Linda has been VP for Ossory Area and Fundraising and Communication for the last six years. Linda has put enormous work into the Baby Changing and Feeding Facilities at the Ploughing Championships over the last number of years, helping out also when Meath & Kildare hosted the event. We are all very grateful to Linda for the time, thought and effort she always puts into the organisation of this facility.

Georgina Byrne ~

Unfortunately Georgina was not present at Council. Georgina has co-ordinated the Prayer Circle over the last number of years. The Prayer Circle is greatly appreciated by members and is now co-ordinated by Elizabeth Johnston, Unit Co-ordinator for Faith & Policy.

Violet Deacon ~

Violet, who was not present at Council, has completed her term as secretary to Trustees. As the other Dioceses have only one secretary it was decided that Margaret Jacob would cover the role of Secretary to Trustees as well as being Diocesan Secretary.
Lesley wished those who will be taking up new offices well:
Lilia Harper ~ VP for Fund Raising & Communication and Ossory & Cashel Area.
Phyllis Grothier ~

Phyllis has been elected Training Officer for the Diocese.

Tania Hanan ~

Tania has agreed to take over responsibilty for Social Policy in place of Mary Catherine Compton who is returning to America where her husband, Revd. Compton, has been appointed to a new parish. We wish them both well in this new chapter in their lives.
Our thanks to Lesely for chairing a very interesting and informative Council Meeting. Thank you also to the Vice Presidents, Unit Co-ordinators and all those who gave reports and contributed to the meeting. Our thanks also to the staff of The Woodford Dolmen Hotel for their professionalism and help in ensuring the success of the day.
The Spring Council Meeting will also take place in the Woodford Dolmen Hotel on
Wednesday 29th April 2020 @10a.m.
It is hoped to have a
"Showcase Exhibition"
at this meeting. Branches will be sent details of the country they are to showcase in advance of this meeting and we look forward to a wonderful displays showing these countries food, culture etc.