Ferns Area
We welcome Naomi Besanson as the new VP for Ferns Area. Naomi has agreed to take over from Lesley Bayley who has been elected as our new Diocesan President.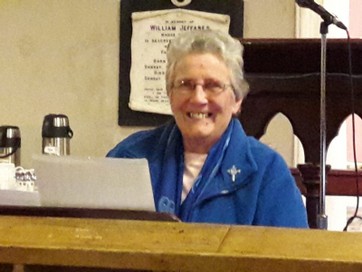 We wish Naomi every blessing as she takes over this new role in Mothers' Union.
Naomi is a member of Ballycanew/Leskinfere/Monamolin Mothers' Union.
Ferns Area Meeting 20/11/2017
The Ferns Area Meeting was held in the Old Schoolhouse, Charlotte Row, Gorey on Monday 20th November. The Meeting was very well attended with Valerie Power, telling all gathered about her recent journey to India with Bishop's Appeal. Lesley Bayley, VP for Ferns Area, opened the meeting with a short service and welcomed everyone to the Meeting on behalf of Georgina Byrne, Branch Leader of Gorey, who was unable to attend.
Valerie showed us lots of photographs taken during her time in India and we were all shocked to see the poverty and very poor living conditions in which many people lived. Valerie spoke of some of the projects that are being promoted and supported to try and improve family life ~ growing crops of wheat, bee keeping etc. and self-help groups to support those who have suffered violence in their lives.
We are very grateful to Valerie for coming to share her experience with us.
Following Valerie's talk Revd. Margaret made a presentation to Cecily Jones to thank her for her work on the MU Enterprise stall for the last ten years. Revd. Margaret also thanked Phyllis Foot and Vivien Black for attending the meeting with the stall and she hopes that someone will come forward in the Ferns Area to take over from Cecily.
All gathered enjoyed lovely refreshments at the end of the Meeting and our thanks to Gorey/Hollyfort Branch for hosting the Area Meeting.
See a slide show of photographs from the evening on your left.
Spring Area Meeting
The Spring Area Meeting was very kindly hosted by
Killanne/Killegney Branch
of Mothers' Union on Monday 23rd April. The meeting was very well attended and the guest speaker was Revd. Trevor Sargent. Revd. Trevor gave a very interesting talk on St. George and also gave us plenty of food for thought about how we can help our planet using the word
PRAY.
P ~ Planting trees.
Trevor talked aboout the inportance of sowing tree and the good that trees do.
R ~ Reducing & Re-using.
We need to be cognisant of packaging we use, what can be recyled etc.
A ~ Ask
.
We need to ask what we can do to help the environment.
Y ~ Communit

y

.
As a community we can help, we can play our part
We are very grateful to Revd. Sargent for giving time out of his busy schedule to address our Area Meeting.
Many thanks to our VP, Lesley Bayley, for all of the time and effort she put into organising the evening
Ferns Area Spring Meeting 2018
Above is a slideshow of photographs from the evening
Photographs from the Autumn Area Meeting in
New Ross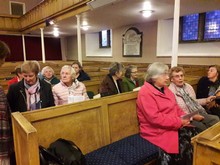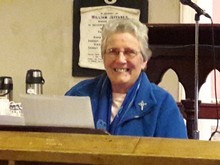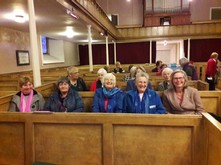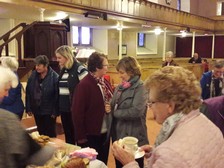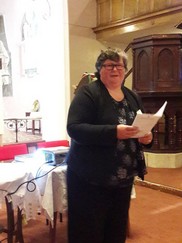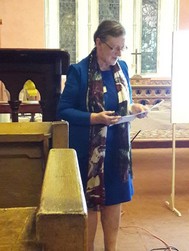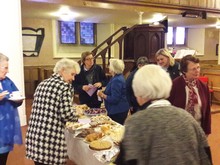 Ferns Area Meeting ~ Autumn 2018
The Ferns Area Meeting took place in St. Mary's Church, New Ross, on Monday 15th October and it was very kindly hosted by New Ross/Fethard Branch of Mothers' Union. The evening was organised by the VP for Ferns Area, Lesley Bayley. Olive Power, Branch Leader, began proceedings by welcoming everyone to New Ross for the meeting.
Lesley then led a short service, the lesson was read by Olive Power and Naomi Besanson accompanied the singing of two hymns. The guest speaker for the evening was Phyllis Grothier, current All-Ireland President of Mothers' Union. Phyllis spoke of the important work undertaken by Mothers' Union both at home and in other countries and the need for the organisation to promote what it does both among Branch members and parishes.
Phyllis referred to the following projects:
The literacy programmes and the support also received from Bishop's Appeal.

The work undertaken by Mothers' Union in our prisons

Projects that are supported in different Diocese ~ ie with Refugee Families, Families in need etc

The 16 Days of Activism Against Gender Based Violence

Knitting Projects ~ hats & matinee jackets for premature babies and stilborn babies, trauma teddies etc.

We were reminded that teddies must be knit using wool that meets the proper safety requirement and any stuffing must also reach the proper safety standards. Also give the completed teddies a good squeeze to ensure that no pins/needles have been accidently left in them.
Phyllis also spoke about MULOA and the importance of communication ~
ALL
information needs to be shared at
ALL
levels in Mothers' Union.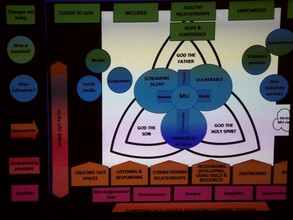 Lesley thanked Phyllis for her presentation, New Ross/Fethard Branch for hosting the meeting and thanked everyone for attending. She also thanked Phyllis Foot and Vivien Black for bringing the Enterprise Stall to the meeting.
Following the meeting refreshments were served in the front of the church.
The Ferns Area Vigil took place in St. Edan's Cathedral, Ferns on Saturday 24th November.
The Service was well attended and led by our Ferns Diocese Voce-President, Lesley Bayley. Our thanks to Lesley for all of the care, thought and effort she put into preparing for the Vigil.
A representative from the Refuge in Wexford spoke to all present about the work of the Refuge and the urgent need for a newly purpose built buliding in Wexford. She said that plans have been drawn up for a new Refuge and it was hoped that building would commence in the very near future.
All were thanked for their support of the Refuge and she thanked everyone for their contributions of toiletries, toys and goods for those who use this important facility.
Following the Vigil Ferns Mothers' Union provided refreshments in the Chapter Room.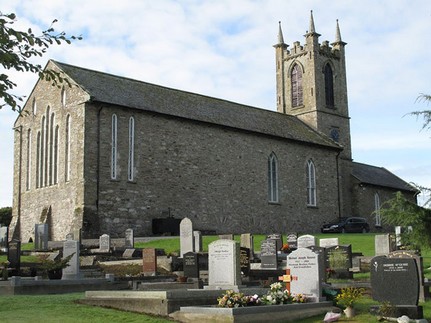 St Edan's Cathedral ~ Ferns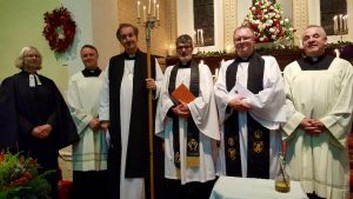 Institution of Revd. Ian Cruickshank to
Killanne/Killegney/Rossdroit/Templeshanbo
Picture Gallery of Activities in The Ferns Area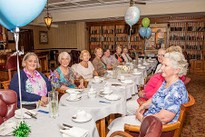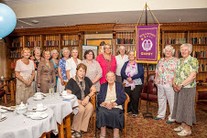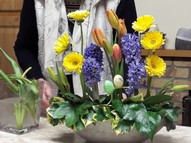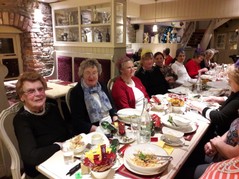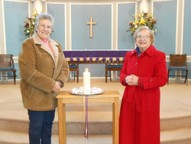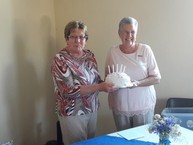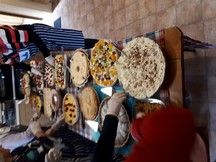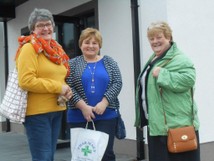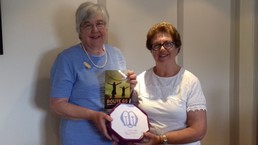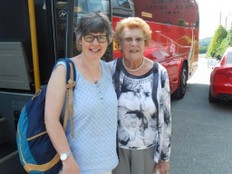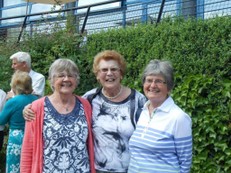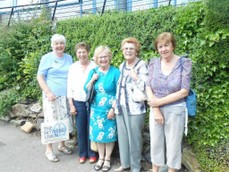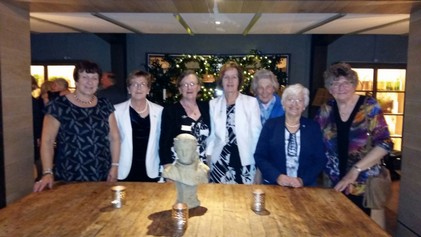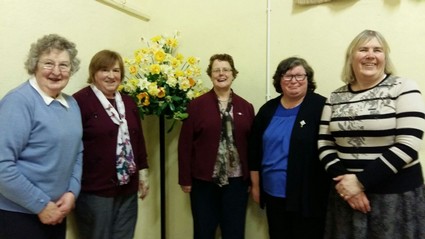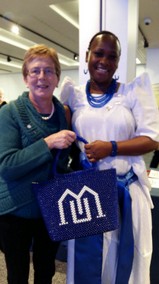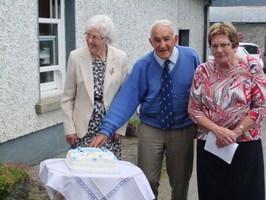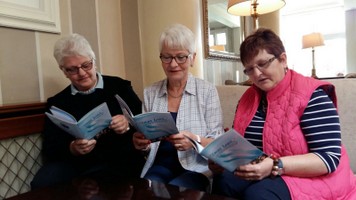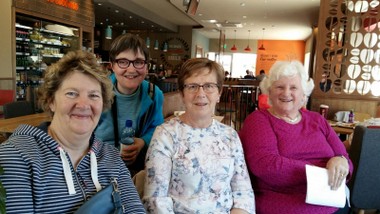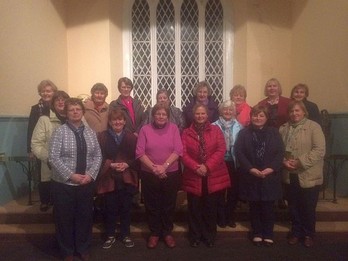 Below are slideshows of photographs from
Gorey/Hollyfort Mothers' Union
~
Well's House, Gorey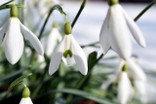 Bunclody Mothers' Union
~
The Big Sing & Altamont Gardens

Ardamine/Kilnamanagh Mothers' Union
~
Mums in May Tea Party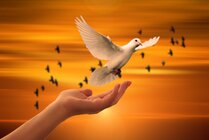 Slideshow 2 ~ Bunclody Mothers' Union
~
Outing & Mums in May Prayer Walk

Slideshow 3 ~ Killanne/Killegney MU
~
Altamont Gardens ~ Mums in May
Branch News from Ferns Area
Ardamine/Kilnamanagh: Founded 1964
May 2018
~ Ardamine/Kilnamanagh Branch held a tea party hosted by Violet Walsh in her home to raise funds for
Mums in May
. There was a wonderful array of food and all who attended enjoyed catching up with friends old and new. See some photographs from the tea party in the slide show at the bottom of the page on your left.
In January 2019 Iris Checkett spoke to the Branch about her life as a nurse.
The special speaker for the February meeting which will take place on Thursday 28th Feb. in Kilnamanagh Old School @ 7.30p.m. is the Revd. Nicola Halford. She will talk about her life journey to ordination and beyond.
Ballycanew/Leskinfere/Monamolin: Founded 1945
The Branch had a very successful tour of the local nursing homes in early October when they delighted the residents of Middleton and Valentia Nursing Homes with the singing of harvest hymns.
The Branch also had a vey busy and productive time in Leskinfere Parish Hall when Mothers' Union members gathered to make school bags for the Team Hope Shoe Box Appeal.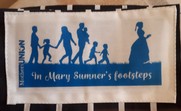 The Branch held their very successful lunch in aid of the Overseas Fund at the beginning of March 2018. Well done to everyone who puts so much effort into this occasion and the Branch really appreciates all the support they receive for this Annual Fundraiser.
In Novemeber the Branch hosted a training session organised by Joan Blake, Training Officer, on the use of PowerPoint and Excel.
The new Officers elected for 2019 are: Chairperson ~ Naomi Besanson, Secretary ~ Mabel Besanson and Treasurer ~ Eluzabeth Johnston
Bunclody Branch: Founded 1941
Bunclody Branch outing was to Kilkenny this year, and took place on 23rd May 2018 where they did the Frank's Medieval walking Tour of Kilkenny.
They had time for some shopping in Kilkenny and finished the day with a meal in the Dinn Ri, Carlow.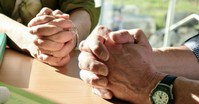 The Branch also held a prayer walk to Askamore Park in Askamore, Kilrush, which was for MUMS in MAY.
They had a beautiful tea at the home of new member Alison Bayne, who was helped out by some ladies from Carnew and everyone brought something for the tea. There is a slide show on the left with pictures from their outing and the prayer walk
On 20th November 2018 the Branch was joined by some members from Killanne/Killegney Branch when Canon Payne gave a very interesting PowerPoint presentation on St. Margaret of Scotland. The evening concluded a cup of tea and a chat.
Enniscorthy Branch: Founded 1904
The Stillorgan and Blackrock MU stopped off in Enniscorthy for coffee on their summer outing to New Ross on Saturday 9
th
June 2018 and five members of Enniscorthy/Monart MU met them at the hotel to greet them and welcome them to Enniscorthy. We presented them with a box of sweets for the bus journey and a copy of Route 66.
The Opening Service for 2018/209 was held in St. Mary's Church on Sunday 18th November. On Tueday 27th November Ms Caroline Steacy gave a demonstration of Christmas Crafts.
Enniscorthy members decorated a Christmas Tree for the Christmas Tree Festival 2018 in St. Mary's Church. The Christmas party was held in The Church Istitute.
Ferns Branch remains active supporting many worthy causes throughout the year ~ Sewing School Bags to go overseas, supporting the annual Shoe Box Appeal organised by Team Hope and collecting toiletries etc for distribution to the Women's Refuge as part of the Vigils for the 16 Days of Activism Against Gender-Based Violence.
Gorey/Hollyfort Branch: Founded 1932
The March 2018 meeting was held in Christ Church Old School where members were invited to share examples of and to speak about their hobbies which included painting knitting, needlecraft and computer skills. It was most interesting and motivating. Our Diocesan Vice President, Lesley Bayley, then lead a very inspiring and timely meditation on "How to Spring Clean your Spirit". We were also delighted to be visited by our Diocesan President, Margaret Sykes.
On Tuesday, the 27th of March some members and friends attended the cinema to see the movie Mary Magdalene. We are looking forward to our outing to Wells house on the 16th of April, our Mothers' Union Area meeting, which will be held in Killanne on April 23rd at 8pm and the Mothers' Union Festival Service which will be held in Christchurch Gorey on the 16th of May 2018
.
On Monday, the 16th of April we had our outing to Wells House. We were fortunate with the weather and enjoyed a stroll around the gardens before a guided tour of the house where we learnt about its history. After our tour we enjoyed a lovely afternoon tea in the dining room where we were ably attended by "Mrs Pierce" the housekeeper a.k.a. Edel. While at Wells House we were delighted to mark Dorothy's upcoming birthday with a gift and a bouquet of flowers.
Some members attended the Mothers' Union Spring Council in Kiltegan on the 17th of April and the Mothers Union Area Meeting on the 23rd of April in Killanne where the guest speaker was the Reverend Trevor Sargent.
The Branch hosted the Mothers' Union Festival Service in Christ Church Gorey on the 16th May. The Diocesan Chaplain, Canon Mark Hayden, Young Families Representative, Claudia Kidd and Vice President for Leighlin Area, Patricia Coleman werecommissioned at this service. See photographs of a meeting preparing for the service in the picture gallery. Our pictures show Joyce Jones, Mabel Besanson, Zilpha Furney & Bettie Wilkinson preparing for the service and Anne Peppard, Rosemary Kinch and Doreen Rynhart Reading the new Mothers' Union Prayer Book " Dear Lord"
See an account of the Festival Service and photographs of the event on our Diocesan webpage. Click on the image below to bring you to the page.
Members attended the Autumn Council in Durrow in November and some members also attended a training session on PowerPoint and the use of Excel in Leskinfere Hall.
Also in November Mers Elvina Spencer very kindly hosted a knitting evening to create items for the premature baby unit in Wexford General Hospital.
Members went Carol Singing in both Middleton & Valentia Nursing Homes on 8th December.
The Branch held their Christmas Dinner in the Eco Restaurant on 9th December.
The AGM of the branch took place on Monday 7th January and the following Officers were elected: Chairperson ~ Mrs Elvina Spencer, Secretary ~ Mrs Tania Hanan and Treasurer ~ Mrs Dorothy Stedmond. They were commissioned at a service in Christ Church Gorey on 20th January
The Branch held their annual outing to the Christmas Pantomine on Monday 14th January
Killanne/Killegney Branch: Founded 1944
The Branch hosted The Ferns Area Meeting on Monday 23rd April 2018 and it was very well attended. See a full report and photographs earlier on this page.
For our May Meeting we held a "Quiet Evening" which was led by the Revd. Nicola Halford. We were joined by many members from Enniscorthy Branch. A lovely tea was served after the meeting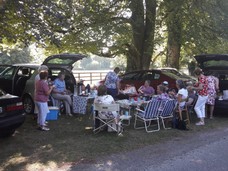 On June 27th The Branch organised a trip to Altamont Gardens to raise funds for
"Mums in May".
It was a beautiful afternoon and many enjoyed a stroll around the magnificent gardens and garden centre before meeting up for a picnic under the shade of the trees on the avenue. Everyone enjoyed a lovely afternoon of great food and chat. Many thanks to everyone who helped make the event such a wonderful social occasion. Thank you to June who had us "sniffing, shaking and feeling" to try and guess what was in the parcel. See pictures in a slideshow on the left of this page.
Killanne/Killegney Branch held their Opening Service for the new season on
Tuesday 13th November 2018
in Killegney Church. The service was led by the rector, Revd. Ian Cruickshank.
The Branch held their Christmas Get-Together in The Alamo Restaurant, Riverside Park Hotel on Monday 10th December. Everyone enjoyed a lovely evening of good food, chat and exchanging small gifts. Our thanks to all of the Committee who put so much thought and effort into arrangements for the evening ~ especially Joan who organised some interesting challenges for us all.
The January meeting was held at Farm View, Clonroche and Lorna Swan gave a very interesting talk about Verra Essential Oils
New Ross/Fethard-on-Sea: Founded 1952
Congratulations to Bea Thorpe and her husband Brian who celebrated their 60th Wedding Anniversary during the year and they helped to cut the Celebration Cake during the Afternoon Tea Party to celebrate Mary Sumner Day at the home of Phyllis Grothier in early August 2017.
Olive Power from the Branch also organises the trip to General Meeting every. The 2018 meeting took place in Swansea and all the work Olive puts into organising travel and accommodation arrangements is greatly appreciated.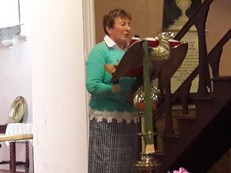 On 15th October 2018 New Ross/Fethard Branch hosted the Ferns Area Meeting. We were welcomed to New Ross by Olive Power. See report earlier on this web page.
Wexford Branch: Founded 1892

Wexford Branch held their April 2018 Meeting in the Rectory, Park. There was a very informative talk using a powerpoint presentation given by two representatives of Clonard Fire Station.

The Branch held an Afternoon Tea Party for
"Mums in May"
in the Rectory on Tuesday 15th May 2018 from 3-5p.m.
The Branch held their Opening Meeting for 2018/2019 on Thursday 22nd November when Mrs Francoise Davision was elected to succeed Susan Minion as Branch Leader and Mrs Edna Rothwell was elected as the new secretary. Ms Julie Grant continues in the role of Treasurer.
The Christmas "Get Together" took place in The Rectory, Park on 15th January.