Cashel, Ferns Ossory Mothers' Union News
COMUN
is a publication produced annually in the United Diocese with news and pictures from events around the Diocese. It is produced in full colour and is a wonderful platform for Branches to promote themselves in all that they do to support worldwide projects and projects within their own community.
The 2017 edition features many of the events which took place during the year to celebrate the "Thirteen Decades of Love & Service" of Mothers' Union in Ireland.
Articles and photographs for
COMUN
may be sent to the MU Diocesan Secretary, Margaret Jacob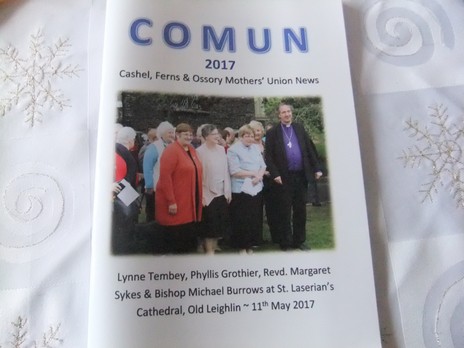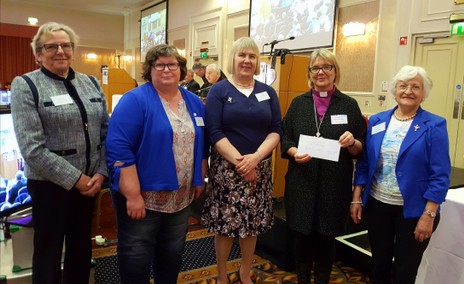 Canon Barbara Fryday, Lesley Bayley, Margaret Jacob,
Bishop Pat Storey & Joan Blake
COMUN wins First Prize in The Media Competition
in The Affiliated Category at Synod 2018
Cashel, Ferns & Ossory Mothers' Union were delighted to receive this award for the publication "COMUN" and four members of the Trustee Board were present to collect the prize.
The Judges had the following to say about the publication:
'A well put together magazine, with plenty of colour and good quality photographs throughout the spreads and a wide range of content. The report from the Ploughing Championships has an outreach opportunity. Well done!'
FOCUS
is an All-Ireland publication which is normally produced twice yearly and comes free as part of your subscription.
This year, however, it was decided that only one edition would be printed in the Autumn. The Autumn edition features pictures and articles covering celebrations throughout Ireland for the 130th Anniversary of Mothers' Union in Ireland.
Vivien Black, our PRO, submits an article from this Diocese for inclusion in
FOCUS
.
Families Worldwide
is the Mothers' Union members resource.
Families Worldwide
includes a daily prayer diary, Wave of Prayer and, over each year, individual profiles of the work of Mothers' Union in more than 80 countries around the world..
The cost of
Families Worldwide
is included in the annual membership charge.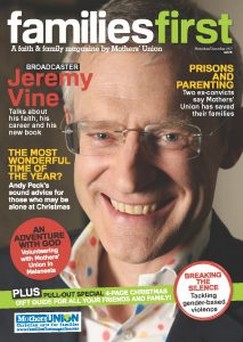 Families First
magazine is a tool through which we share the trials and testimonies of families and individuals touched at every level of family life - from birth to death. Rather than plying our readers with stories of why breast is possibly best; we tell the stories of those many women who, for whatever reason, are not able to have children and so cannot even make that decision. Rather than showcase a pick of the best retirement homes in the area we look at how people cope when a loved one is bereaved after a lifetime together.
No one likes being told what to do and so we try and steer clear of "experts" and talk to people who have really been there, lived there and walked in those shoes. Then we ask them how they coped and we share those experiences with our readers and we believe that's how we can build each other up. Testimonies are biblical. And we put God first.
But there's a light-hearted side too! We also have regular pieces on wellbeing, teenagers, children's arts and crafts pages, film, book and music reviews, GREAT competitions and puzzles and prizes.
Profits from sales of
Families First
magazine support the work of Mothers' Union in fighting poverty, injustice and tackling family issues.